It's fri!! the day where i get to relax n hang out wit my frens!! hehe...this time me,sin yee,mabel n vicki are hanging out at my place...vicki's coming over too!! which is rare occasion!! so we prepared a surprise for her...we bought 20 nuggets and 4 large fries from McD, 2 large packets of mee goreng from the mamak near by,1 packet of twisties,1 packet of jack n jill potato chips,1 packet of cheesels n 2 big packs of m&ms from 7-eleven,n i prepared tuna n egg sandwhiches...we were goin to hv a movie marathon till 9 sumtin...hehe...so we need lots of food... we oso wore black...i dono y...but that was mabel's idea...

After col,we quickly bought everything...i hv the McD kid's club card so i'm actually entitled to a free small fries if my purchases exceed rm3 so i ask the cashier to split my bill into 5 so that i can get 5 free small fries...since we were in a hurry i din bother to check if he reli did give me 5...after that me n sin yee quickly prepared everything at my hse while mabel got ready n walked vicki over to my hse...while preparing i realised that stupid cashier din give me 5,he ony gave me 1!! means he did not split the bill at all n i was thankin him n stuff...that idiotic freak!! aargh!! he prob din understand wat i said...haih...nvr la...stupid ppl memang lk that...

When vicki n mabel came we open the door n shouted surprise!! haha...it was prob the lamest surprise ever...haha...but it was reli funny...every1 was laughing lk hell...haha...we watched MI3 n then got bored ad...so we decided to crash in my room so we cleared up n wen upstairs...omg...they totally messed up my room!! haha...the comforter was thrown onto the floor...the pillows were scattered around...haha...we were doin crazy things like bouncing on my bed n taking pics on the com...screaming over Drew Fuller,Julian McMohon,Joey G n Daniel's pics...haha...they r so so cute ma...here n some of the crazy things n not so crazy things we did...

feast for 4!!

the shows we were suppsoe to watch

Group Photo

Joey G n Jien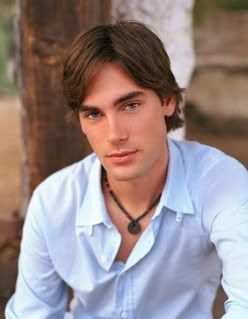 Drew Fuller...he's so cute!!


But somehow i like Julian McMohon better eventho he's not as cute as Drew Fuller...mayb bcuz of his character's(Cole) true love to Phoebe...
Sin Yee bouncing on my bed
some random pic sum1 took while i was searchin my bag...
Me n Mabel
Shy vicki covering her face with my pillow

me n sin yee havin some internet fun


At around 7 we ordered pizza for dinner...omg...they all were like so noisy so i had to keep askin the operator to repeat wat she said...summore she was talking to bloody hell softly...n we wanted the new type of pizza...cheesy bits...but that time i din noe wat it was called cuz i din c the advertisment...so i had to resort to askin her for the newest pizza...haha...n i guess it was so noisy till she din hear la...so wen the order came it was normal pizza...nvm la...at least its still nice...

After dinner they wen back to thrashing my room n my com...by that time we were a little worn out so we lie down on my bed while sin yee continued using the com...around 9.45 they left...it was a tiring but seriously fun day!! cant wait for the next time!!

P.S-mabel,vicki n sin yee...pls don b so noisy a wen i order pizza...haha...