Librarian hi tea was so so fun!! with the exception of havin to wait in stef's hse while the rest of the ppl come n then waiting in tiong khoon's car for yee leong to come...we din reli noe where the place was n tiong khoon was leading the way...so we kept discussing which way to go...we didn't noe dat they wanted to park in pyramid so we wen to the hotel parking ad and almost entered ad then stef called n said she wan to park at pyramid...so we had to make 1 big round...then yee leong said that there's another way into the pyramid parking...wen we got there,it was closed for renovation so we had to take the u turn...make another big round...then ony finally wen into the parking
...haha...

When we wen in alot of ppl were there ad...well,obviously since we were late...i sat wit bob,paulina,aik soon,marn tseng n yien mun they all...so nice to chat wit them again...i ate abit ony...2 rounds n the plate oso not full wan...cuz they wanted to take pics ad...so not nice ma slow them down...we wen out to take lots of pics...climbed onto the fake rocks at the fake waterfall wit my heels...haha...bobo so bad...keep sayin fall fall...haha...i din fall at all...i wear long skirt summore!!after that we wen to pyramid to play at the arcade...then yum char at McD...that's it lo for the librarian hi tea...here's the pics...

group photo!!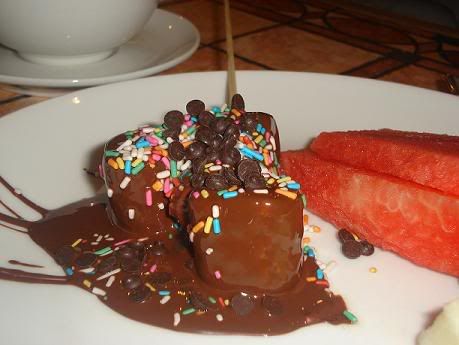 Bobo's art work(chocolate-dipped-colourful-rice-and-chocolate-chips-sprinkled-marshmallows rather...)
me n my koko yee leong...
tiong khoon(thx for the ride =D ),me n min yuen...